Contemporary Chinese Business and Culture
| | |
| --- | --- |
| Duration | 4 years |
| Starting Date | September |
| Tuition Fee | ¥13,300 (RMB) |
| Teaching Language | English |
Program Infomation
• Program introduction
Tailored to the needs of bachelor students interested in China's economics and business culture from other countries, the program is designed to present a picture of current China's economic and social life to those who intend to do business in China.
• Curriculums and credits
1. Courses arrangements
Section 1: Mandarin Courses
Chinese Grammar (128 hours): Basic techniques of writing and reading Chinese language
Oral mandarin (128 hours): Daily used words and expressions for survival in China
Section 2: Business Courses
Course 1: The Business Environment in China
This course introduces the political, social,economic, cultural and historical factors which influence the manner in which business is conducted within the People's Republic of China. The impact of Maoist and Dengist policies are discussed. Greatest emphasis is placed on the contemporary developments and changes in China's business practices.


Course 2: The Business Legal Environment in China
This course is aimed at business people who need to understand the legal context for doing business in the People's Republic of China. The course deals with relevant legal institutions and substantive laws, with an emphasis on commercial law matters.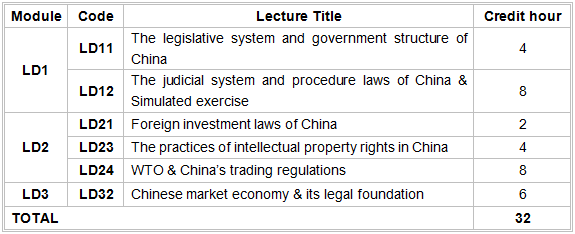 Course 3: The Business Management in China
This is an executive-level management course illustrated by examples specific to mainland China. The topics are related to the concept of the business environment and national culture as one factor in that environment, how culture influences the company's internal arrangements,how culture and the internal arrangement influence the company's priorities in strategic planning and its needs for control in international relationship in the WTO context and the operation of financial accounting system in China.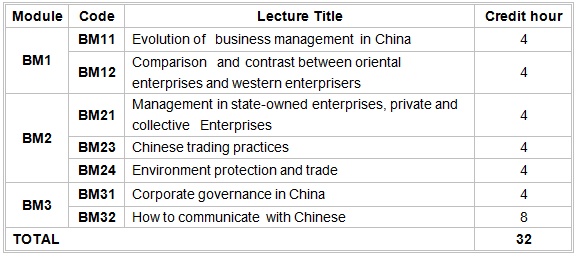 Course 4: The Chinese Business Culture

This course includes 4 modules, focusing on China's business history and the influence of traditional philosophy, the differences between Chinese and western business cultures and strategic choices for foreign business professionals trying to make a fortune in China.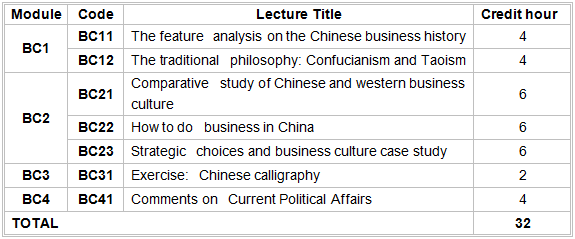 During this semester,two study tours are scheduled to practical teaching base.
2. Assessment
The award of Training Program Certificate is made on successful completion of the courses and open examinations with a satisfactory attendance record.
• Entry requirements
1. Applicant must be a non-Chinese resident, holding a valid foreign passportor international identity certificate.
2. Applicant should be in good mental and physical condition.
3. Applicant should be over 18 and under 25 years old.
4. Applicant should have sufficient financial capability for working and living in China.
5. Degree or diploma: Applicants who should have completed one year of Higher Education or above.
6.Language requirements (Applicants who do not from English-speaking countries should meet one of the following requirements):
(1) IBT 90.
(2) IELTS 6.5.
(3) TOEIC 750.
(4) The instruction language is English in senior high school or above study period.